Passing On Janoris Jenkins
March 2nd, 2016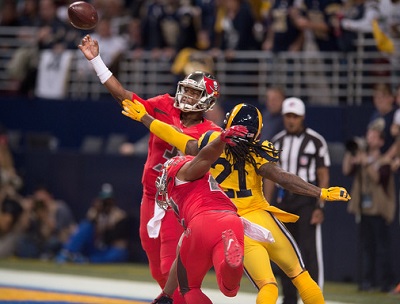 Former Gators trouble maker Janoris Jenkins is an excellent cornerback in his prime.
He's also about to become a free agent, following long contract talks with the Rams that broke off in the fall. The 2012 second-round pick further sealed his walking papers, it seems, with Twitter claims of being disrespected by the Rams this week.
Per BSPN, Jenkins is about to hire Darrelle Revis' agent and is seeking north of $10 million per season.
Joe has no interest here. Jenkins, as a second-round pick, has not made a pile of money yet. And his red flags of fathering many children and multiple arrests in college, and getting booted from the Gators football team his senior year, still linger in Joe's head.
Yesterday on SiriusXM NFL Radio, host Jim Miller reminded listeners of the odd and controversial demand of Rams coach Jeff Fisher after Jenkins was drafted No. 39 overall. There was a huge uproar because Fisher essentially was forcing Jenkins to hire a financial manager Fisher trusted to keep Jenkins' from sinking.
Yeah, Joe realizes Jenkins turns 28 in October and likely has grown up. He's also only missed four games in four years, and had three picks last year — one more than all Bucs cornerbacks combined. And there's all those Bucs fans out there who lament Tampa Bay giving up on Aqib Talib, who might be on the cusp of the Hall of Fame if he can notch a couple more Pro Bowl seasons.
Still, Joe is too fearful of dumping a bucket of cash on a guy with Jenkins' history. It seems like there are a lot safer cornerback bets out there.