NFL Network Snub Outrages Kwon
March 27th, 2016
Kwon Alexander sure likes to find reasons to become incensed.
Joe follows him on social media and every once in a while, Kwon springs to life writing something like, "Keep doubting and you will pay!"
First off, who the hell is doubting Alexander? After a rookie season like he had, it's just the opposite. But if Kwon must chase ghosts to motivate himself, then, whatever. OK.
Well, last week, NFL Network, specifically good guy Charles Davis, gave Kwon all sorts of real ammunition.
In a "Path to the Draft" segment about the Bucs upcoming picks, NFL Network displayed a Bucs depth chart (see below). In a shocking display of zero research, Kwon wasn't listed. It was as if he were traded or cut.
Even worse, Davis lives in Orlando and occasionally pops in at One Buc Palace for Bucs features. This was a massive brain fart, he never noticed Kwon's omission.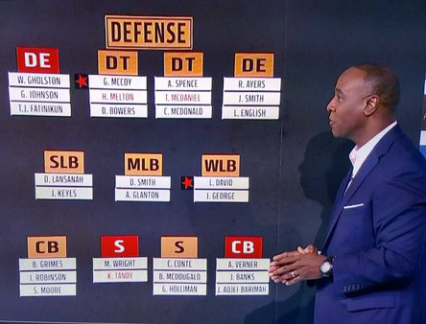 Kwon, who seems to look under rocks for even the slightest of slights, went nuts on Twitter when this was brought to his attention.
I promise you I will make you remember my name!

— Alexander the Great (@Showtime17Kwon) March 26, 2016
Davis, class act that he is, realized his mistake, noticed Kwon was peeved and issued a heartfelt apology. Kwon took the high road and accepted.
Showtime17Kwon: @CFD22 everybody make mistakes bro. No hard feeling !
Joe has never been in the NFL Network's studios just west of Los Angeles (Culver City), but Joe is confident Davis was not responsible for printing the name tags for the display. That likely was a production assistant.
Still, it shows you how far off the radar the Bucs are when a guy who lives in Central Florida and was at One Buc Palace a few times in 2015 — and calls NFL games for FOX Sports — totally forgets about a starting middle linebacker who may have been the Defensive Rookie of the Year had he not slammed down the wrong energy drink.