Monte Kiffin Returns
March 21st, 2016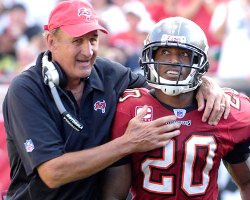 The Bucs' iconic defensive coordinator is still grinding away, fighting Father Time to the end.
No, Joe's not talking about Lovie Smith.
Today, the Jacksonville Jaguars announced the hiring of 76-year-old Monte Kiffin. He'll be a defensive assistant under Gus Bradley, helping new coordinator Todd Wash, the Bucs' former defensive line coach, acclimate to his role.
Kiffin was out of football last year, after the Cowboys ousted him as their defensive coordinator. Kiffin was the head of the horrible Dallas defense in 2013. He was pushed aside for Rod Marinelli in 2014, when Kiffin primarily was a figure head and advisor.
Joe's glad to see Kiffin still around and coaching. He's always been one of those guys whose DNA won't allow him to sit on his couch or call Monday Night Football games.