Mankins Wanted To Fade Away
March 14th, 2016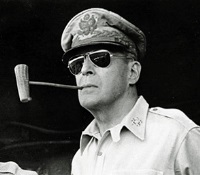 Was Logan Mankins the modern day NFL version of Douglas MacArthur? Well, his career ended the same way, sort of.
In 1951, the five-star general, one of the more storied officers in U.S. Army history, addressed a session of Congress and announced his retirement, ending his speech saying he just wanted to "fade away."
That seems to be the wish of Mankins, only he didn't speak before Congress.
In his must-read weekly column today, Yogi Berra-worshiping, urinal picture-taking, video game-playing, Taylor Swift-listening, pickpocket-thwarting, Bucs-uniform-frowning, Allie-LaForce-smitten, Big-Ten-Network-hating, pedestrian-bumping, olive oil-lapping, popcorn-munching, coffee-slurping, fried-chicken-eating, oatmeal-loving, circle-jerking, beer-chugging, cricket-watching, scone-loathing, college football-naïve, baseball-box-score-reading, NPR-honk, filthy-hotel-staying, fight-instigating, barista-training Peter King, of Sports Illustrated and NBC Sports fame, reports that Mankins had made up his mind to retire over a week ago.
It seemed the Bucs were going to try to do something special for Mankins when Peyton Manning announced his retirement, and Mankins couldn't think of a better day to slip behind the curtains and, well, fade away.
The Bucs knew a couple of weeks ago the 11-year-veteran guard Mankins was going to retire. They asked Mankins 10 or 11 days ago how he wanted to handle it. He didn't really care, but he didn't want to have a news conference, and he didn't want to issue a statement; he simply wanted to fade away. "I do not want this to be a big deal," he told the team. After a dignified career and seven Pro Bowls, Mankins certainly deserved to go out the way he wanted. The Bucs were going to announce it one day last week, and then it began to leak on the morning of Peyton Manning's retirement gala in Denver. For Mankins, that was perfect. That day, he officially retired, and it was completely overshadowed by the Manning festivities.
Mankins is a low key guy, about as invisible as an NFL player can be. The way his retirement played out, it was the perfect ending for him.
From what Joe is told, Mankins will retire to his remote California ranch and likely never be heard from again, unless someday he's elected to the Pro Football Hall of Fame.
Like MacArthur, Mankins will just fade away.