Ludicrous Glennon Fantasies In Denver
March 10th, 2016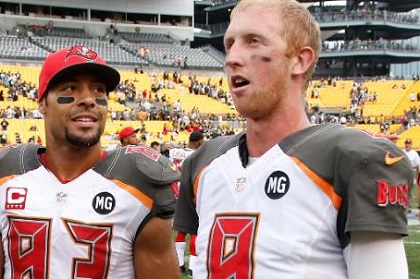 Cue the Mike Glennon Mob, who's eager to free their favorite son and achieve a twisted orgasmic salvation by him shining as a starting quarterback.
Yesterday, Denver's star general manager John Elway got kicked in the groin by losing quarterback Brock Osweiler to the Texans. Elway even had the balls to claim he only desires players who want to be Broncos, so everything there is on track. Meanwhile, Elway is the same dude who had just offered Osweiler tens of millions to lead his franchise. Didn't he know Osweiler was bleeding orange? Talk about two-faced.
Anyway, Glennon fever is heating up in Denver.
A chief dude fanning the flames is Broncos beat writer Cameron Wolfe, who works for the Denver Post. One of his Twitterings yesterday said he'd be on the phone immediately to One Buc Palace inquiring about Glennon.
Uber-insider Adam Schefter of BSPN said on the TV airwaves that the Broncos could make a play for Glennon.
This is all fun to talk about, but there are two key points. First, there's no way that Elway has watched film of Glennon and determined Glennon is the guy to lead him to another Super Bowl. Joe would wager just about anything on that.
Might Elway want Glennon on the cheap as a guy to compete and be a capable backup? Sure. But just kill the notion of Elway sitting in a hot tub yearning for Glennon and ways to pry him from the Bucs. That's about as likely as Bucs cheerleaders sipping martinis and dreaming of Joe in a bathing suit.
Joe has written countless times that the Bucs should trade Glennon and take the draft pick, any decent draft pick. A good backup QB is useless to the Bucs now because they're not Super Bowl contenders. More important, Glennon's contract is up after this year, and Glennon is too smart to re-sign with Tampa Bay on the cheap and pass on a chance to start somewhere else.
Joe's friend Chris Myers, the iconic FOX and former BSPN broadcaster, who has called Bucs preseason games for years, was pounding a social media drum on Twitter for Glennon yesterday. Myers claimed Glennon could be an immediate starter for five NFL teams and make them better. Joe fired back at Myers demanding names, and Myers obliged with the "Rams, Broncos, Jets, Bills and Browns."
What a revival day for the Mob!
Of course, Joe agrees the Browns would be much better off with Glennon versus Josh McCown, but certainly not the Bills.
Regardless, don't look for the Broncos to come calling for Glennon with anything that will move general manager Jason Licht, who seems content to let Glennon ride shotgun to America's Quarterback for another season.