Koetter: More Touches For Charles Sims
March 28th, 2016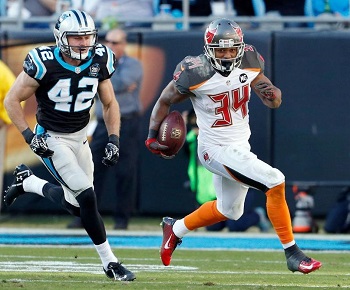 Yes, the Bucs will pay Doug Martin $8 million this season.
But third-year running back Charles Sims is coming off a stellar season complementing Martin, and Dirk Koetter wants more touches for Sims, so he said at the NFL Owners Meetings last week.
Here's the catch:  Koetter said those touches may come as a kickoff returner.
Koetter was asked whether Kenny Bell would compete for a punt returner job, and Koetter said that was not planned, as he saw Bell as more of a potential kickoff returner. But Koetter added that Sims would be the mix to return kicks as a way of getting him more touches.
Regarding the Bucs' offense, Koetter said the likelihood is that Sims and Martin will be used the way they were last season.