Keith Tandy Re-Signed
March 8th, 2016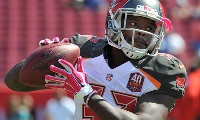 In a nod to the Greg Schiano-Mark Dominik regime, the Bucs re-signed pending free agent safety Keith Tandy today.
Tandy, 27, was the Bucs' sixth-round pick in 2012. He's performed when called upon in a reserve role, and he's a solid cog on special teams. Tandy is one of those guys you want on a roster.
Solid no-brainer move the Bucs.
Speaking of that 2012 draft, the Bucs' first five picks will have jobs in 2016, Mark Barron, Doug Martin, Lavonte David, Najee Goode (Eagles) and Tandy. That doesn't happen often in the NFL, and three of those guys had great seasons last year.
Damn that Dominik!