"Jack" Is Back
March 9th, 2016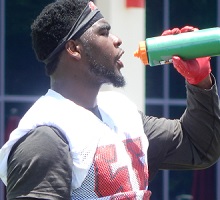 Once upon a time last year, Bucs left defensive end Jacquies "Jack" Smith led the NFL in sacks with four.
That came after he dropped three on Drew Brees and was dominant in a Week 2 must-win game against the Saints in New Orleans.
Smith didn't do a hell of a lot after that. An often hobbled Smith found his way to seven sacks in 12 games, a total that might command him $10 million per year on the open market these days. Dirk Koetter even spoke at the NFL Scouting Combine about how the Smith might not have been healthy all year.
However, Smith was one of those faux pending free agents as of yesterday, courtesy of the complicated rules for undrafted free agents before they hit their third season. Regardless, the Bucs officially slapped a tender on Smith today, so he is assured an inexpensive Tampa Bay return in 2016.
One more strong year from the 25-year-old, and the Bucs will need to pay the man to keep the man.
The Bucs also officially slapped a tender on starting safety Bradley McDougald, a holdover from the Greg Schiano-Mark Dominik regime.