If The Giants Want Jason Pierre-Paul …
March 6th, 2016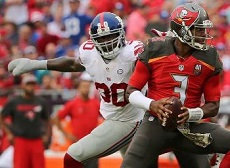 Aside from missing digits and recording only one sack in eight games last year, Joe's knock against Jason Pierre-Paul was the Giants' apparent disinterest in re-signing him.
The latter was a giant red flag.
But now, per Ian Rapoport of NFL Network, the Giants are pushing hard to bring back "JPP" on a one-year deal. Apparently, the Giants are willing to pay but want JPP, who just turned 27, to prove his comeback from a fireworks disaster is real.
So that leads Joe to the obvious question, "If the Giants are willing, then what about the Bucs?"
Obviously, price is everything here. But if JPP, who had 12.5 sacks in 2014, is willing to play on a one-year contract with, say, a fat second-year option, then Joe would applaud the Bucs taking a shot.
One would think JPP would be pleased to return to Tampa, his college stomping grounds, and enjoy the fruits of Gerald McCoy's labor on the interior pass rush. Joe also admires the guy's drive to return and blowing up his hand, and his legs are young enough.
As Joe's written previously, rookie defensive ends can't be counted on to produce immediately. Joe would sleep comfortably at night with JPP, a top rookie defensive end, and Jacquies Smith and William Gholston rounding out the DE rotation.