Eyeing "Baby Gronk"
March 21st, 2016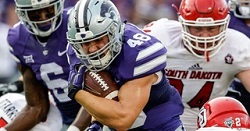 Last year, the Bucs drafted Samoan fullback/running back Joey Iosefa out of the University of Hawaii in the seventh round.
Iosefa later became the featured back in the Patriots' win against Tennessee in December, grinding out 51 yards on 14 carries.
The point is general manager Jason Licht drafted a fullback a year ago, and the Bucs need a fullback now even more than they did then. Dirk Koetter appears to be a pro-fullback head coach. Remember, he developed Pro Bowler Patrick DiMarco in Atlanta.
Jorvorskie Lane had a horrific injury in the Bucs' season finale, and there's no other fullback currently on the roster.
This is why Joe is keeping an eye on the man known as "Baby Gronk," fullback Glenn Gronkowski out of Kansas State. The youngest brother of Rob Gronkowski is someone Joe met at the NFL Scouting Combine, and the 6-2, 240 specimen loves to talk about his versatility and desire to play special teams.
Joe also likes the Gronkowski pedigree, and most guys like him from an NFL family. That knowledge of expectations goes a long way, Joe believes. Former Bucs safety Cody Grimm overachieving as a seventh-round pick comes to mind.
Gronkowski is projected as a sixth- or seventh-round pick. Joe could totally see the Bucs making that move, if every pass rusher with a pulse is off the board.