Don't Get On That Plane
March 16th, 2016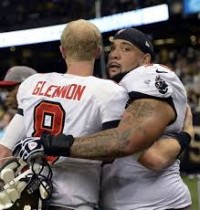 Updated 11:38 a.m. – Free agency is often a battle of wills.
"Testing the market" can be a brutal struggle for a player who turns down a contract from his current team, and then that respective team often shakes while it digs its heels in.
Look at the details surrounding Doug Martin's fat new contract. He agreed minutes before the free agency bell rang one week ago, and Martin appeared to be out of town and wasn't part of a local Bucs news conference. It sure smelled like Martin wasn't just playing verbal hardball with Tampa, he was in another NFL city about to bite on another deal.
A great illustration played out yesterday and this morning with one of Joe's favorite Buccaneers of all-time, Donald Penn, who hasn't missed a start since jumping into the Bucs lineup at left tackle in Week 5 of the 2007 season.
Yesterday, Penn prepared to step on a plane to visit the Giants after talks stalled with Oakland, where he's anchored left tackle for the past two seasons.
That trip won't happen. Ian Rapoport of NFL Network broke news this morning that Penn will re-sign and "will never get on the plane."
Good for Penn. Joe makes no apologies for still rooting for Penn, who just had a Pro Bowl-worthy year. He didn't want to leave the Bucs and certainly never should have been kicked out the door.
Update: Per Rapoport, Penn has signed a two-year, $14 million contract, with half of that guaranteed.