Scouting Often Frustrates Koetter
February 25th, 2016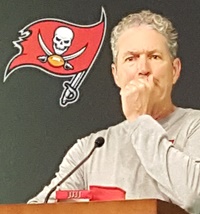 We all know what Dirk Koetter really thinks about the data freaks trying to dominate the game of football.
His raw emotion on the subject was there for all to see in November.
Weeks later, Koetter tried to back away from that wonderful takedown of the stat nerds, but Joe wasn't buying it.
Yesterday, there was another beautiful moment alongside one of the NFL Scouting Combine podiums.
Koetter was talking about scouting and the reports he gets on college players. Joe got to see Dirk Koetter well up in frustration for a moment while thinking of all the paper and opinions he reads.
Koetter shook his head and said the conclusions of scouts' can be frustrating. "You have no idea what they were asking him to do," Koetter said, referring to scouts judging players without knowing a play call or his role on a play.
It was a neat glimpse into Koetter, who is as old school as they come. The son of a football coach, Koetter knew he wanted to coach 50 years ago.
Kotter, based on other comments he made yesterday, is a guy who seems to rank a college player's raw talent and the magic mystery — whether a player really loves the game like Koetter does — higher than college performance.
Joe's very curious to see the collective makeup of this 2016 draft class.