Report: Vet Edge Rusher Market At $12 Million
February 23rd, 2016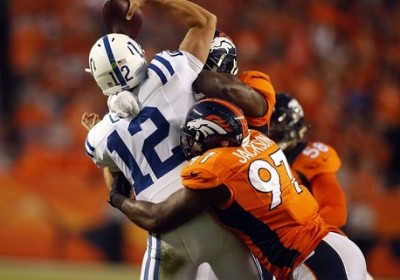 There's lots of growing chatter across various NFL media that the Broncos will break up their Super Bowl band of dominant pass rushers: Von Miller, DeMarcus Ware and Malik Jackson.
Denver, it's said, won't open the vault for three defensive linemen.
Jackson, 26, is the young up and coming buck among the bunch, and while his sack totals are pedestrian, 14 1/2 over the past three years, he's widely considered to be a strong player and a versatile force at 6-6, 290 pounds.
He's could be a free agent in 15 short days when the free agency dinner bell rings.
Noted Sports Illustrated scribe Peter King had Joe coughing up oatmeal yesterday when he typed for MMQB.com that Jackson is likely to command $12 million a year.
4. I think I see Malik Jackson going to the highest bidder in free agency. And I am beginning to be dubious about whether that will be Denver. The Broncos will keep Derek Wolfe, DeMarcus Ware and Von Miller (with at least the franchise tag) this free-agency season. The fourth pass-rusher, Jackson, might be too much for John Elway's cap to take. I do believe someone (Giants? Falcons?) will pay Jackson $12 million a year, and that could be too rich for Denver.
What?
Jiminy Christmas! Next thing you know, Jacquies Smith will crank out another seven sacks next year and demand to be paid eight figures.
Joe's all in favor of dudes getting paid, but it would be pretty damn stunning if Jackson is paid $12 million a year by the Giants or Falcons. King must have heard something about a booming market for defensive ends.
Perhaps proven Mario Williams' big demands are, in fact, reasonable.