Father Dungy Selected For Hall Of Fame
February 6th, 2016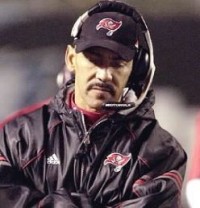 Congratulations to Father Dungy, who was voted into the Pro Football Hall Of Fame this evening.
He's "Father" Dungy to Joe, in part, because he sired the Buccaneers' revival from league doormat to perennial contender. There's no question that Dungy truly changed a culture and injected a winning mentality.
No, he didn't get the job done in Tampa and was rightfully fired. But Dungy went on to stardom in Indianapolis.
The primary reason Dungy is in the Hall? His teams won more than two-thirds of their games in the regular season.
Stunning.