Replacing Bobby Rainey
February 8th, 2016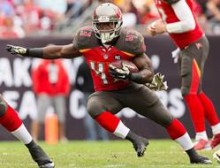 Bobby Rainey's NFL career has been marked by some great afternoons running the football, and years of teams thinking he's not quite in their plans.
Rainey, who is a heck of a success story, could be an unrestricted free agent in a matter of weeks. He turns 29 in October and the Bucs have a decision to make.
Is Rainey the returner the Bucs desire? Doubtful — for two reasons.
First, general manager Jason Licht did his best to replace Rainey in the draft last year by selecting Kaelin Clay in the sixth round. The Bucs gave up on Clay quickly and he landed in Baltimore, where he returned a kickoff for a touchdown.
In 2014, the Bucs had no interest in letting Rainey return kicks. Lovie Smith and Licht burned through Solomon Patton, Marcus Thigpen, Trindon Holliday and a second shot at Patton before before settling on Rainey to close the season.
Joe doesn't need stat nerds to know Rainey has a fumbling problem. Just watch the 2015 film. The guy was a master at recovering his own fumbles. That's a nice but scary skill, and a looming disaster. The fumbling issue can't be ignored.
Per NFL.com, Rainey coughed up the rock seven times. The next NFL returner with extreme jelly hands only lost four balls.
In the running game, Rainey was a luxury, a versatile talent for a third-stringer. But the Bucs never needed him last season.
Joe likes Rainey, but it's time to let him hit free agency and see what he might command. If there are no takers, then maybe the Bucs re-sign him as a high quality training camp body.
Licht needs to find the returner of the future, and maybe add that Pro Bowl bruiser fullback.