Michael Clayton: Passing Instructor
February 4th, 2016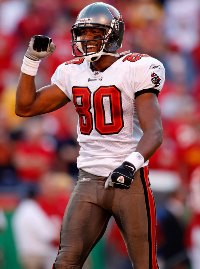 So it seems everyone connected to football promotes something for the Super Bowl (people calling the Super Bowl "the big game" is about the cheesiest thing Joe has ever heard. Only non-sports fans pretending they are sports fans would stoop to something so ridiculous).
Enter former Bucs first-round pick Michael Clayton. Since CBS will broadcast the game, local CBS affiliate WTSP-TV Channel 10 is going all out promoting it.
They host some yenta show called "Studio 10" on weekday mornings, and the host decided to call in Michael Clayton for tips on how to throw a football.
You can see the results in the WTSP-TV Channel 10 video below.