Jameis To LeBron: "Man, Hit Me Up"
February 5th, 2016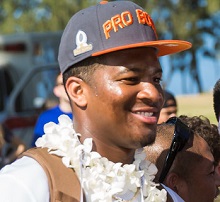 America's Quarterback, Jameis Winston, is having fun at the Super Bowl.
TMZ caught up to young Jameis at a party last night and, um, Jameis was feelin' loose.
Jameis is joined by his "beautiful girl" and his "right hand man."
Ahh, to be 22 years old with millions of dollars.
Jameis says he's ready to start modeling and acting, and he seemed very impressed by his girlfriend.
Don't drink and drive, Jameis.