"I Don't Know How Tampa Bay Lets Doug Martin Out Of There"
February 23rd, 2016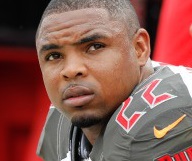 The drumbeat for Doug Martin is pounding nationally.
Even Hall of Famers can't fathom how the Bucs could let Martin waltz out of One Buc Palace for something as trivial as money.
Hall of Fame general manager Bill Polian hit the SiriusXM NFL Radio airwaves yesterday and said only hidden trouble would be a reasonable reason to let the Bucs dump Martin.
"I don't know how Tampa Bay lets Doug Martin out of there unless there's an issue," Polian said.
"Unless there's an issue," Polian repeated, referencing an unpublicized injury concern or off-field situation.
He cited Martin's production, age and the great benefit of a powerful running game for America's Quarterback, Jameis Winston.
Can anyone argue with Polian? Joe sure can't. Martin represents what the Bucs seek: drafted players who perform.
As for off-field issues with Martin, if they even existed (rumors have floated for years), there's been no evidence they were part of the 2015 season. In fact, the Bucs already are negotiating with Martin for significant guaranteed money, so they must be confident he's a model citizen.
Get a deal done, Mr. Licht.