Hall Voter Predicts Dungy & Lynch Get In Tonight
February 6th, 2016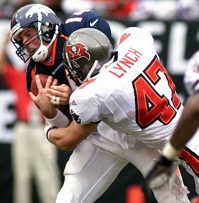 Only one man representing the Tampa Bay region casts a vote for the Pro Football Hall of Fame inductees.
He is the Custodian of Canton, eye-RAH! Kaufman.
Kaufman, of The Tampa Tribune, will be a busy man today and tonight. As is customary the day before the Super Bowl, the 50 or so Hall voters gather, present, discuss, argue and cast their ballots.
Yesterday, Kaufman joined the dean of Tampa Bay sports radio, Steve Duemig of WDAE-AM 620, and talked all things Hall of Fame. He put his foot down and predicted Bucs icons Father Dungy and John Lynch, both finalists again this year, will become Hall of Famers this year.
Via this link above, you can hear Kaufman and Duemig talk all things Hall of Fame.
Real wild cards on this year's 15-finalists ballot this year are Kurt Warner and freaky Terrell Owens, the NFL's second leading receiver of all time with 15,934 yards.
Lynch also might lose votes to former Broncos safety Steve Atwater, who is a first-time finalist. Lynch and Dungy are on the finalist ballot for the third time.
Per Kaufman, Brett Favre is a lock, and Marvin Harrison also will get the required 80 percent of the vote. He also likes linebacker Kevin Greene to get in.
Interesting note: Kaufman says he will be the final presenter this year. He believes he can leverage that position to get Lynch the necessary votes. It's an important year for Lynch, with fellow safety Ed Reed becoming eligible in a couple of years.