Yesterday, Today And Tomorrow
January 4th, 2016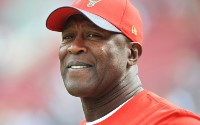 And so the 2016 season ended with a thud.
The most exciting element of the final game happened after the final whistle, when America's Quarterback, Jameis Winston, called out teammates for just going through the motions and cashing Team Glazer checks.
Good for Jameis!
Problem is, Jameis may only have this offseason to solve the riddle and change the culture to save Lovie's job.
There are no more excuses for Lovie.
Bucs AC/DC-loving general manager Jason Licht is already talking a playoff run next year. Joe doesn't believe those are outrageous expectations for a coach in his third season. No more of this BS from Lovie's sycophants and apologists that it takes time. There's significant evidence to the contrary (see below).
* Two years ago, the worst team in the NFL, the Texans, hired first-time head coach Bill O'Brien to take over the franchise, which still lacks a quarterback. What has O'Brien done? Only win nine games his first year and follow that up with a playoff berth this year.
* Two years ago, the moribund Minnesota Vikings, without a quarterback, hired first-time head coach Mike Zimmer. All he has done is build a division winner in his second year.
* Two years ago, Brother of Chucky, first-time head coach Jay Gruden, was hired to fix Robert Griffin III. Instead, Brother of Chucky benched Griffin and, as a result, the Redskins were picked to finish last in their division. Brother of Chucky then molds Kirk Freaking Cousins into a decent quarterback, retools his coaching staff on both sides of the ball, and this year won a division title.
* Two years ago, Jim Caldwell took over the Lions and in his first year got the Lions to the playoffs.
* Two years ago, the Browns hired Mike Pettine who, despite totally butchering and mishandling Johnny Football, had the Browns in a playoff chase his first year. Pettine, who has a much worse roster than the Bucs, was fired yesterday with two more wins than Lovie has as Bucs coach.
Yes, Jameis saved Lovie's job. But for how long? Joe thinks it is fair to suggest if Lovie doesn't at least win eight games next year, barring some freak injury to Jameis, he is in deep doo-doo. As he should be.
Other coaches have done more with less and in less time. And Lovie has yet to show through 32 games that he or his staff can develop one cornerback.
What Lovie Needs To Do
Joe's old man used to have a saying, "It's one thing to be stubborn, and it is another thing to be stubborn and dumb."
Lovie has never struck Joe to be dumb, so Joe hopes Lovie can see the light (not unlike how he saw the light with Jameis) and realize he must change things up on his defense unless he is looking to retire next January.
Get open-minded about letting a new defensive coordinator do his thing. (If Leslie Frazier is not yet set up for a fall, Joe doesn't know what a fall guy is.) Frazier's contract is up in a few weeks and he was shoved aside by Lovie earlier this year. Frazier is the classic figurehead now.
How can Lovie look Team Glazer straight in the face and say his defense does not need an overhaul? His cornerback play would frighten Dracula, and quarterbacks look like they are running high school 7-on-7 summer league offenses?
Pass rush? What friggin' pass rush?
The smart thing would be for Team Glazer to persuade Lovie (hint, hint) to go hire Jim Schwartz (Schwartz would have to be guaranteed either job security or a boatload of cash), sign Mario Williams and let Schwartz run the defense. If Lovie can't see that his defense needs major work, and Joe really means major work, then Lovie is living in rank denial.
Yeah, Schwartz is a pain in the neck but he can coach a defense. Thus far with the Bucs, Lovie seems to be grasping at straws on defense and panicking at times. How else does one explain virtually each game there is a different pair of cornerbacks starting?
Does Joe expect this to take place? Sadly, no.
After 32 games and running through six corners, that's an ample sample size to show that whatever the hell Lovie is trying to do with his secondary is failing miserably.
Roster Overhaul?
The offense is pretty set for next year. Oh, adding wide receivers via free agency or the draft would be smart but nothing major here.
The defense is another issue. But what to do? Assuming Lovie runs the defense again, Joe doesn't trust Lovie to develop a corner – what evidence is there he can? – so expecting a rookie(s) to turn around the secondary, well, Joe would have better luck bedding a Hooters Calendar girl. So off to the free agency shopping outlet you go.
As far as the defensive line, Joe says load up from both the draft and free agency and hope someone pans out.
Sackless George Johnson, stealing money from Team Glazer, is gone. Joe would be shocked if the Bucs do not draft at least one defensive end. Cross your fingers that Joey Bosa does something stupid to drop in the draft.
Also, remember what Jameis said, indirectly, about the losers in the locker room? Who you see missing from the roster in the coming months will speak volumes about that very issue. So pay attention.
Time To Make Folks Accountable
As Joe wrote earlier this morning, WFLA-TV Channel 8 sports director Dan Lucas had a helluva line about Mike Evans and his baby ways, which has resulted in him being targeted by officials. A winning culture does not include guys who constantly make stupid mistakes.
Lovie needs to have a heart-to-heart with Evans so Evans knows he will be on the bench if he doesn't grow up. How many games have the Bucs won with Evans, who led the NFL in drops, eight wins in two years? Like the Bucs can't lose without him?
No, Joe is not suggesting unloading Evans, hell no. But continued whining should park his arse on the bench. Right now Evans surely isn't helping himself, and he sure as hell isn't helping the Bucs to any wins with his selfish antics.
And trust Joe, if Evans is benched, that's a major signal to others to keep their heads out of their arses. It is high time to quit enabling the children like Evans and Austin Seferian-Jenkins.
Players like to say Lovie treats men like men, right? Well, it's about time to start treating the children like children, too.
Lovie's Record With the Bucs
In the largely sorry history of the Bucs, only one coach has more losses in his first two seasons as coach of the Bucs than Lovie.
If it wasn't for Jameis, Joe would be writing about new coaching candidates to replace Lovie today. And as much as people are dragging Lovie vicariously through the streets of Tampa this morning, he deserves every bit of praise and kudos for bringing Jameis into the Bucs fold and organizing and overseeing his development.
Well done, Lovie, and thank you.
NFL Thoughts
Jets: So Ryan Fitzpatrick turned into Ryan Fitzpatrick in the fourth quarter with all the marbles on the line for the Jets. As the old saying goes, if you don't have a quarterback, you have no shot. Thank God the Bucs are done with this puzzle for the foreseeable future.
Titans: Zach Mettenberger lost again? That's, what, nine losses in a row? This guy is utter trash. If any NFL analyst tries to open his piehole to explain the talent Mettenberger has, he should be immediately pulled off the air and fired. Imagine actually paying to watch Josh Freeman and the Colts vs. Zach Mettenberger. Folks, there are many, many better ways to throw away your money.
Steelers: It wasn't pretty, but the Steelers got the job done against Cleveland and made the playoffs. And probably lost their best running back the week before the playoffs began. Again.
Dolphins: Ryan Tannehill beat Tom Brady and the Belicheats. Is New England ripe for an upset or is Belicheat just lying in the weeds hoping to trap some unsuspecting team?
Saints: Nice win for the Saints who had nothing to play for but a draft slot to lose — and they may lose both their Hall of Fame quarterback and Super Bowl-winning coach.
Lions: Won their final game on the road in Chicago and it appears Jim Caldwell may very well keep his job. The old lady owner likes him.
Bengals: Cincinnati rolls into the playoffs hoping Andy Dalton can somehow get healthy enough to play. They face the dangerous Steelers.
Redskins: Beat the hated Cowboys to end the regular season. How is Brother of Chucky not the coach of the year?
Texans: They waxed the Jags to enter the playoffs. Wait, Bill O'Brien, two years ago took over the worst team in the NFL, without a quarterback, and has the Texans in the playoffs in his second year. How can this be?
Vikings: Mike Zimmer took over a moribund program without a quarterback and in two years, he built a division winner. How can this be?
Colts: Josh Freeman, out of the NFL until last week, beat the Titans. Let that sink in for a moment.
Giants: The Chip Kelly-less Eagles beat the Giants. Joe thinks Tom Coughlin, who should be in the Hall of Fame someday, is done. He's 72. Go enjoy retirement.
Seahawks: With the possible exception of the Chiefs, no team in the NFL is hotter than Seattle. Dangerous, dangerous playoff team.
Denver: Blah, blah, blah… Peyton Manning.
Chiefs: Enter the playoffs with a 10-game winning streak. That is a team on a roll, folks.
49ers: Jim Tomsula wins in overtime and moments later is kicked out the door.
Random Thoughts:
* Joe sees all kinds of folks upset the college football semifinals were held on New Year's Eve. Not smart by the powers that be, but so what? The problem wasn't when the games were played; the problem was the games stunk. We live in an age where there is this thing called a "DVR," which one can use to record games. Games can also be watched on portable devices with a thing called an "app." So if one must spend a ton of cash to participate in amateur night, you can still watch the games whenever. Quit crying. The ones losing the money are the clowns who thought holding the playoffs on New Year's Eve was a brilliant idea.
* Having the playoffs on New Year's Eve isn't near as dumb as not having any bowl games on Christmas.
* Speaking of bowls, my God, the past weekend were horrible. Joe can only think of a couple of close games. And one of those (Wisconsin-USC) ended at 2 a.m. Finally we were saved Saturday night by the second half of the Alamo Bowl with that epic comeback by TCU. The Cactus Bowl, with West Virginia and Arizona State, was absolutely wild and for the 16 people that stayed up until 2:15 a.m. to watch it (including Joe), it was a blast and a fine way to end the bowl season.
* Joe got invited by a friend to the Outback Bowl and with tickets for the corporate-suits tailgate. Trust Joe, there are fewer things finer in life than tailgating on a beautiful Florida morning nursing Bloody Marys and shoveling your grill with shrimp and grits. That, friends, is living.
* Joe saw an odd thing at the Outback Bowl: There was a fan near Joe wearing Gators regalia and loudly cheering for Northwestern. Joe was shocked. Joe thought SEC types stuck together as if Billy Sherman was running through Georgia again. When Joe asked the Gators fan why he wasn't pulling for Tennessee, the guy just yelled at Joe, "HELL, no!"
* What is it with hotels that don't want to make money? Since Christmas weather was so nice, Joe booked a hotel at Treasure Island for a couple of days, just to relax and veg out and unwind. The dopey hotel decided to shut the bar down despite the place being almost full. Dumb. Oh well, Joe just walked across the street, bought a bottle of Crown, and was set for his stay. A week later, since Joe knew he would be having cocktails at the Outback Bowl, Joe decided to get a hotel (much better safe than sorry) again. The hotel was later sold out, with roughly 85 percent Volunteers fans. What happened? The hotel shut the bar down for the day! Can you imagine? At least the hotel had the common decency to suggest we go to the hotel across the street (Westshore) where there was a bar open.
* If there was a way Joe could get NFL Network streamed via Apple TV, or some other streaming device (legally), he'd cord-cut until football season resumes. Yes, Joe knows Verizon Wireless streams NFL Network on phones, but that's a bit much. Joe's not going to sit there like a mental patient watching a full program holding a smartphone 10 inches from his grill for two hours or longer. Joe's so tired of getting robbed by BSPN for the six-to-eight months he doesn't watch that outfit. The only time Joe watches BSPN is for live games, and Joe can just about live without college basketball, by to Hooters when there is a good game on. Once March hits, Joe doesn't turn BSPN on again until college football starts Labor Day Weekend. Joe gets his baseball games via MLB.tv anyway. Cable fees are getting out of hand, and BSPN is the biggest thief.
* Joe has plans brewing in the crock pot to make this here corner of the Interwebs better than ever. Stay tuned.
* Remember: Joe does not take a siesta in the offseason. The Bucs will be busy with so much cap space in free agency (which starts in March) and of course, there is Joe's annual excursion to Super Bowl Media Day this month and working his arse off with gumshoe reporting at the NFL Scouting Combine next month. Free agency follows right after that, and then there are offseason workout programs and then the draft and then OTAs. There is no offseason in the NFL and there is no offseason with Joe. So, savvy Bucs fans hungry for Bucs information will continue to make Joe a daily stop.
* Thanks for reading this column weekly since the regular season began. Joe appreciates it, really. It goes on hiatus until September when the 2016 regular season resumes. Joe's going to rework it for next season. May even streamline it.
* Joe hopes everyone has a prosperous New Year!