"They Kind Of Slowed It Down A Lot"
January 31st, 2016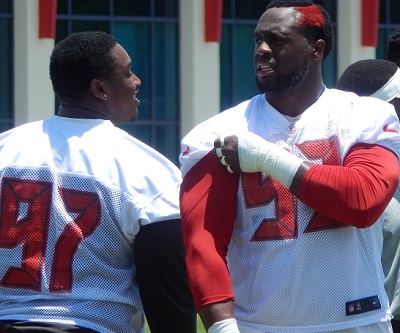 You want perspective on the Buccaneers' defense under Lovie Smith?
It was provided at a Pro Bowl event a few days ago.
Falcons fullback Patrick DiMarco will play in the Pro Bowl this evening at 7 p.m. (ESPN). He had just one carry all season, but made the Pro Bowl courtesy of his punishing blocking and ability in the passing game, 13 catches and two touchdowns.
Joe asked DiMarco to name the two toughest run defenses he faced this season.
"We actually had a tough time with Carolina's defense. They're pretty stout all over the place," DiMarco said. "Our second game against the Bucs, they kind of figured out our run game and slowed it down a lot."
Yes, the Bucs had a superior run defense for nearly all of 2015. But it fell apart in their final two games. The Bears ran against Tampa Bay with ease, and Carolina chewed them up in the season finale. Team Glazer was surely taking notes.
If you think it's a coincidence that the run defense collapsed while defensive tackle Akeem Spence missed the last few games, then Joe suggests you pay attention. Spence is a monster in run defense.