"That's Bull, Man"
January 19th, 2016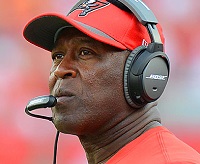 Joe wrote about the silence of the Bucs icons in the immediate aftermath of Lovie Smith getting canned, but there was a huge-name voice that came out quickly to express disgust.
That was Brian Urlacher, the former Bears linebacker and likely future Hall of Famer. Joe only came across Urlacher's take on The Rich Eisen Show yesterday, but it's still intriguing 12 days later.
"That's bull, man. I don't get it," Urlacher said of Lovie getting fired. "I thought they had a good year this year, compared to where they were last year."
Urlacher talked about how well Lovie did with a rookie quarterback, one Urlacher thought would produce little out of the gate.
"There must be something wrong behind the scenes there," Urlacher said.
Joe would agree with that. Something — or somethings, plural — was wrong for Team Glazer, and they acted accordingly.
Urlacher's take starts at 7:30 of the video embedded below.