Ridiculous Glazer Bashing Drones On
January 8th, 2016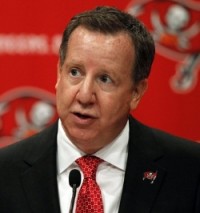 Joe really can't believe how out of touch so many national and local media types have become.
From ESPN's popular Mike & Mike show to NFL reporter Josina Anderson to enough local voices to make Joe want to puke.
So many of these folks are ripping Team Glazer for not being present at Jason Licht's news conference yesterday. They need to wake up. Fans don't care about Team Glazer taking a podium and saying 20 different versions of, "We can do better than Lovie Smith."
People forget football is a business. And business is always about what works tomorrow and today, not yesterday.Team Glazer looked at Lovie and lost confidence that he was the guy to lead the Bucs to the Super Bowl. Period. Simple as that. It was a routine firing of a failing head coach who was not supported by a majority of fans.
Licht is a general manager entering his third year. He wasn't walking in off the street yesterday. Licht's face belonged on that news conference. It's Licht leading the head coaching search. It's Licht in charge of personnel. It's Licht who released cornerbacks coach Gil Byrd, safeties coach Mikal Smith, defensive coordinator Leslie Frazier and other of Lovie's defensive coaches.
Team Glazer will 100 percent be available to media when a new coach is hired. They'll be in a big auditorium taking uncensored questions.
Stop all the soccer-mom-Sally wailing because Team Glazer didn't answer a few questions yesterday. Oh, the horror.
You want ego-driven ownership that wants its face on everything? Careful what you wish for.