Second Look At Koetter, Roddy White & Jameis
January 15th, 2016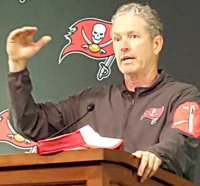 Ten days ago, Joe wrote about Roddy White, Dirk Koetter and a potential marriage in Tampa.
In a nutshell, the Falcons owe White about $6 million in 2016, and there's talk in Atlanta of the veteran wide receiver getting ousted as a salary cap casualty. ESPN reporter Vaughn McClure was buzzing about it again today. Weeks ago, Koetter told ESPN that White is the most competitive player he's ever coached.
Joe wrote that a guy like White would be an amazing addition for America's Quarterback, Jameis Winston, as he tries to change the culture of the Bucs and turn losing attitudes into winning attitudes.
But now, perhaps, the Bucs won't have that same weak mentality as they did under Lovie Smith. Perhaps head coach Koetter will know how to weed out the softies and motivate the rest.
Maybe the Bucs won't need a guy like White any longer.
Regardless, the White situation is worth watching. The Bucs need help desperately, and they also need winning-attitude veterans to help rid the disease of losing.