National Media Hammers Licht & Koetter
January 21st, 2016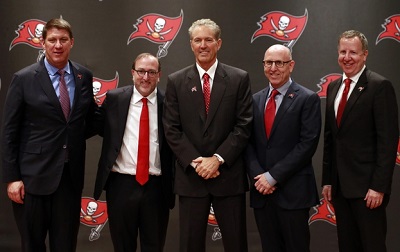 Newy Scruggs, a national host on NBC Sports Radio, railed on Jason Licht and Dirk Koetter this morning, claiming a great source told him the reigning Bucs honchos "stabbed up" Lovie Smith.
Scruggs isn't the only guy floating this narrative.
The proposed proposition is simple: Koetter and Licht teamed up on Team Glazer to get Lovie run — to preserve their own jobs for the long term.
Mike Florio, of ProFootballTalk.com, asked Koetter about this alleged coup on NBC Sports Radio yesterday. "Total, 100 percent B.S.," Koetter explained.
Here are the key questions for the important people at One Buc Palace:
How does this garbage get started? Is it a reason why not one prominent ex-Buccaneer attended Koetter's introductory news conference at One Buc Palace (outside of Shelton Quarles, who works for the team)? And where does it go from here? How can the evil forces spreading a disease like this get shut down quickly and effectively?
Make no mistake. Things likely will get progressively ugly in the media for Licht and Koetter, if this situation isn't turned around — a situation that should never have blossomed in the first place.
Bucs officials probably have a plan. If not, they're welcome to buy Joe beers and steak and learn how to stabilize and fill this sinkhole.