"My Job To Simplify Everything"
January 26th, 2016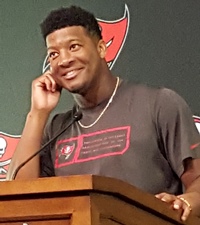 The Bucs — and their fans — rode one hell of a rollercoaster last season.
It started with a kick-in-the-groin loss to the miserable Titans that was thoroughly deflating, and it ended with a sobering letter opener to the eardrum by the NFC Champs.
In between, the Bucs had a truly historic collapse in Washington, but they still managed to be 6-6 in December with a favorable remaining schedule and an honest shot at the playoffs.
America's Quarterback, Jameis Winston, saw it all as a 21-year-old, from those emotional swings to injuries receivers, plus absorbing his own beatings starting early in preseason.
The public magnification of all things Bucs, especially during a wild season, was brought up to Jameis on the Buccaneers Radio Network just prior to the regular-season finale. Poised and ready to fully take over the Bucs in 2016, Jameis explained, "It's my job to simplify everything."
And he added that the roller coast explosion of emotions is not something he can allow to affect the Bucs. "We know how the media works," Jameis said.
It was all a bit of foreshadowing from Jameis, who has avoided the spotlight completely since Lovie Smith was fired and Dirk Koetter was hired.
Jameis walked the walk when it came to a chance to "simplify everything," to use his words. No blow up on Twitter. No rapid reaction to BSPN. No hint of anything but cool and calm.
And it's not like Jameis was on a Caribbean island surrounded by brown-skinned women and cocktails. Bucs general manager told Joe and other media that Jameis was at One Buc Palace with Dirk Koetter the morning after he was hired.