Lovie Failed At Office Politics
January 10th, 2016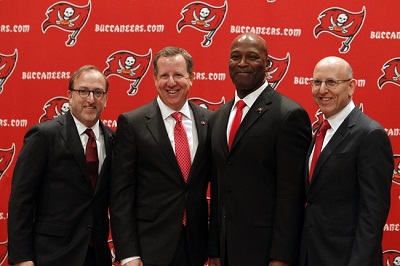 If you've ever had a job, you know the No. 1 rule of job security is making sure your boss loves you believes in you.
Clearly, Lovie Smith failed in those areas. Chicago Sun-Times columnist Rick Morrissey hammered home this point in a scathing rant on Lovie following his firing.
The stunning thing about Smith's firing in Tampa Bay is not that he was sent packing after just two seasons. It's that he, of all people, didn't have the right folks in his corner.

Smith, who always watched his back in Chicago, was done in by letting his guard down. Again, shocking — not so much because an oddball owner would fire a veteran coach so soon but because an in-house politician like Smith hadn't stopped the revolt before it got traction. He used to have one eye on the field and one eye on any perceived threat to his livelihood. Ask former Bears defensive coordinator Ron Rivera.
Lovie, obviously, felt more comfortable than he should have following a late-season collapse — and with a defense that was historically ugly on third down and against the pass. Lovie wasn't fired on Monday, so he clearly did a horrible job re-selling Team Glazer on why he was the guy to the lead the Bucs to a Super Bowl.
Joe is not crying for Lovie one bit. He did a poor job over two seasons. But Lovie had plenty to sell Team Glazer last week. The magnificent handling of America's Quarterback, Jameis Winston, should have been a true pair of aces. But it seems Lovie couldn't find any other cards to beat Team Glazer's strong hand against him.