Looking For Best Coach
January 7th, 2016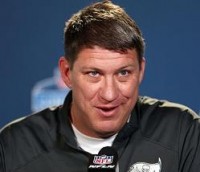 Listen up! Fans should be comfortable in their hearts that AC/DC-loving general manager Jason Licht will bring in the best candidate to lead the Bucs to winning ways.
That's what Licht explained in his emotional press conference this afternoon at One Bucs Palace.
"We are going to look at several different candidates from several different backgrounds," Licht said. "[We] will make the decision based on the feel for them and what we feel they can bring."
Licht explained that he does not have a specific blueprint that a coach has to have a set number of years as a coordinator or a coach.
"It will be the best football coach we can find."
"It's going to be the best football coach we can find." -GM Jason Licht WATCH Full Presser: https://t.co/idK0PdrDuy https://t.co/EDeqeUwg7T

— Tampa Bay Buccaneers (@TBBuccaneers) January 7, 2016