Licht Says Koetter Will "Re-Energize" Bucs
January 15th, 2016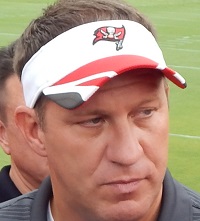 Interesting choice of words by Jason Licht today.
The Bucs' general manager was quoted this morning in the team's official news release on hiring Dirk Koetter as the franchise's 11th head coach.
"When I started this search for a new head coach, the focus was on finding someone that could be a strong leader as well as a consummate teacher, and Dirk is both," said General Manager Jason Licht. "He brings the passion and drive that will re-energize our organization and help us establish the winning culture that will help us become the championship-caliber team that our fans deserve."
Joe finds that "re-energize" word to be telling.
Was Lovie too mellow for Licht's taste? Did Licht believe the team wasn't responding to Lovie's calm before during and after the storm?
It's common for teams to look for a significant change in personality and approach when the fire/hire a head coach. It seems Licht sought that, too.