John Lynch Has A Message For Licht, Koetter
January 22nd, 2016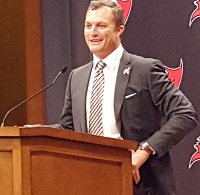 Your newest member of the Buccaneers Ring of Honor, Mr. John Lynch, has a message for Jason Licht and Dirk Koetter.
Find "singled-minded" players, was Lynch's advice to Licht and Koetter. Find guys willing to fight and claw and think like winners at all times — at all costs.
"You gotta believe. You really do," Lynch said on the One Buc Palace podium today.
Lynch was asked, in general, about the key for this Bucs franchise — and the old school Bucs — turning the corner.
In what should encourage Bucs fans, Lynch explained that he's gotten to know Koetter and new defensive coordinator Mike Smith via FOX TV production meetings, and Lynch believes the Bucs are in excellent hands.