How Will Dirk Koetter Protect Jameis?
January 25th, 2016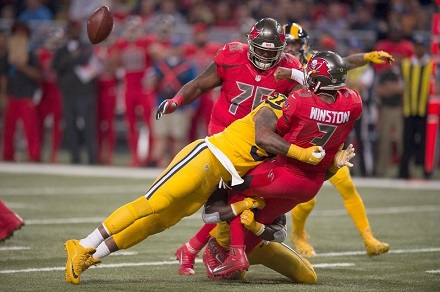 Dirk Koetter was hired as Tampa Bay head coach, in part, because Team Glazer wisely knows its Buccaneers are (for now) all about the development of America's Quarterback, Jameis Winston, aka America's Punching Bag.
No quarterback 72 inches or shorter took more shots than America's Quarterback, Jameis Winston, this season, according to official NFL data.
Jameis absorbed 109 "quarterback hits' during the regular season. He was beaten up soundly. (He was even lucky to make it out of preseason in one piece). Only Russell Wilson endured more, and it's a safe bet Wilson avoided direct shots a lot better than the bigger and less agile and experienced Jameis.
That has to be addressed by Koetter and weaved into the whole offensive approach — and Jameis' mindset. Jameis simply can't get pounded every year, especially with a great running game and That will catch up to him.
Blake Bortles, as a rookie in 2014, took a beating similar to the one Jameis endured. But in 2015, Bortles and Jags offensive coordinator Greg Olson (the former Tampa Bay Benn'd Around guru) figured out how to cut Bortles' hits down to 89. And he played every snap and attempted a whopping 606 passes en route to a big statistical season. That was 71 more throws than Jameis had.
So how does Koetter get this done through quality coaching? Joe can't wait to see the approach, from technique adjustments to playcalling.
Bortles is a popular in-season guest on SiriusXM NFL Radio, and he talked about how much smarter he was on the field as a second-year player versus being a wide-eyed rookie. He referenced that it saved him plenty of shots.
Jameis was hardly a deer-in-the-headlights rookie, but he was a 21-year-old dealing with a significant learning curve. If Jameis simply enjoys a natural, progressive maturity, then Bucs fans should be doing a lot of dancing in the streets this fall. Hopefully, Koetter and his new offensive coordinator rapidly will accelerate the process.