Gerald McCoy's Eighth D-Line Coach
January 18th, 2016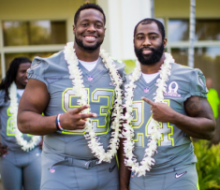 If Gerald McCoy complains of voices in his head at Pro Bowl practices next week, then Joe will understand.
There was Todd Wash, Grady Stretz, Keith Millard, Bryan Cox and Randy Melvin, Joe Cullen and the ubiquitous Warren Sapp.
All those guys have coached McCoy on his defensive line skills since he was drafted in 2010. And now, Jay Hayes will be the eighth boss for McCoy in seven Tampa Bay seasons.
Has McCoy had the benefit of consistent coaching? No. It's not an excuse, just something worth noting.
Rod Marinelli coached Buccaneers' defensive linemen from 1996-2005.
What does McCoy look like if he had more stability around him?