Free Agency Dominates Championship Sunday
January 25th, 2016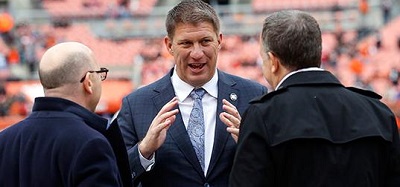 Joe wept yesterday while watching Demarcus Ware play defensive end for the Broncos.
The man delivered seven hits to Tom Brady and absolutely wreaked havoc en route to Denver belting Brady a record 20 times.
Yes, there are good players available in free agency, even pass rushers. Ware signed with Denver in 2014, when the Bucs broke the bank for Michael Johnson. (Please don't talk to Joe about 3-4 rushers, versus 4-3 rushers. Good coaches know how to use great players who can beat the guy in front of them.)
Julius Peppers was a hell of a free agent pickup for the Packers in 2014, as well. He had double digit sacks this season, plus one in the playoffs. Peppers hasn't missed a game since 2007.
Michael Bennett was a quite a free agent pass rusher, too, back in 2013. He's been dominant in Seattle and will frolic with Gerald McCoy at next week's Pro Bowl. Jabaal Sheard had a heck of a 2015 season in New England after his March pay day, including five solo tackles and one for a loss yesterday.
Joe wants all the free-agency-is-the-devil types to jump in frigid Lake Tarpon and soak their heads.
Free agency only sucks when you pick the wrong players.
Yesterday, the Panthers' wide receiving corps made great use of three guys who once walked the streets, and their new (old) left tackle — the most well known lineman in the league — has served them very well all season. Kurt Coleman, the Carolina safety with two interceptions yesterday? He was signed in March free agency last year and led the league in picks.
And now cabbie-punching, granny-hassling, gun-totin', helmet-wielding, Adderall-popping Aqib Talib will play to win his first ring — while his free agent quarterback goes for his second ring.
Yeah, free agency is the stuff of losers.