Father Dungy Says "Something Happened"
January 9th, 2016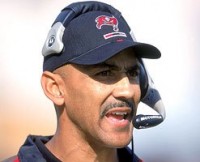 Lovie Smith's close friend and mentor, Father Dungy, shared his thoughts on Team Glazer and the Lovie firing yesterday.
Dungy joined the national radio airwaves on The Dan Patrick Show. Joe has transcribed all his comments below.
"I was a little shocked, but it's happened before. [The Glazers] fired a coach who went to the playoffs four years out of five. They fired a coach who went to the Super Bowl," Dungy said, referring to himself and Chucky.

"So nothing kind of surprises me there. But just talking about where they were, where they were going. They had Jameis Winston, looked like a franchise quarterback. They were going in the right direction. They won four more games than the year before. You thought maybe they would just ride it out and it would go pretty well, but it wasn't the case."
Dungy was asked by Patrick about the "immediacy" feel of the Lovie firing, and Dungy offered a theory.
"I think something happened," Dungy said. "There's a candidate they're looking at that came available or that they talked to that they want. And that's why it was done on a Wednesday, in the evening, for sure."
So Dungy thinks "something happened." Yes, Joe agrees wholeheartedly. And Joe is confident the full and complete truth will be very hard to find.