Bad Donovan Smith Bashing
January 21st, 2016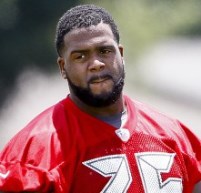 Joe is downright enraged by the seemingly countless Bucs fans who think rookie Donovan Smith was a shaky and almost bad left tackle last season.
Stop bowing to data nerds. Stop!
Hell, in midseason, then-OC Dirk Koetter emphatically said the Bucs hit the jackpot by drafting Smith and Ali Marpet. General manager Jason Licht, about two thirds through the season, hopped on the Buccaneers Radio Network and called Smith a hidden MVP of the entire team.
Joe doesn't recall public outrage at those statements. In fact, Joe recalls the opposite, contagious high-fiving across the Tampa Bay area.
Where were these down-on-Donovan Bucs fans all year long complaining about how Smith was a serious liability?
Yes, a knock on Smith is penalties. That's fair. He had to many, but maintain perspective. Here's how Smith fared last season in that department versus the 2016 Pro Bowl left tackles.
Donovan Smith, 10 penalties + 1 declined + 1 offset
2016 Pro Bowlers:
Andrew Whitworth, 10 penalties + 0 declined
Tryon Smith, 8 penalties + 2 declined
Jason Peters, 7 penalties + 3 declined + 1 offset
Joe Thomas, 6 penalties + 0 declined
Trent Williams – 6 penalties + 1 offset
Joe Staley – 2 penalties + 0 declined
Penalty totals for NFC South left tackles:
Michael Oher (Panthers, 16 games) 4 penalties + 0 declined
Jake Matthews (Falcons, 16 games) 4 penalties + 0 declined
Terron Armstead (Saints, 13 game) 5 penalties + 0 declined
Penalty total for the guy needlessly booted from the Bucs:
Donald Penn (Raiders, 16 games) 8 penalties + 1 declined
So, yes, Smith, who played every snap last season, had too many penalties, but it wasn't anything too crazy. Smith was a rookie and he will learn. He did improve during last season; four of his 12 infractions were in Weeks 1 & 2.
Matthews, of Atlanta, the No. 6-overall pick in 2014, improved greatly from nine penalties (plus two declined) during his rookie year. Joe looks for similar improvement from Smith, who turns just 23 in June.
All last year on SiriusXM NFL Radio, brilliant football men have talked about how hard it is to draft solid offensive linemen. The Bucs got one at left tackle.