Are Bucs Learning From Tom Coughlin?
January 12th, 2016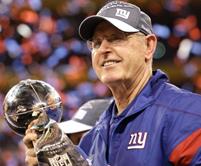 Back when former rockstar general manager Mark Dominik conducted a Bucs coaching search in 2012, he met with nearly fossilized candidates, such has Mike Sherman and Marty Schottenheimer.
The goal was to consider them but also learn from their vast knowledge.
Today, general manager Jason Licht is leading his first head-coaching search, one in which he claims he will scour the world to find the best candidate.
So will Licht interview two-time Super Bowl champion Tom Coughlin, who had a mutual parting with the Giants last week?
Former Jets personnel man Pat Kirwan, of CBS Sports and SiriusXM NFL Radio, is screaming for Licht and every other general manager looking for a head coach to call Coughlin.
"At least learn what he knows!" Kirwan bellowed to his national audience yesterday.
It's a great point.
Licht might be talking to/interviewing Coughlin without public knowledge. There's all kinds of valuable intelligence to glean from the 69-year-old, two-time head coach. Licht also might be completely disinterested. Team Glazer also might want no part of Coughlin, either.
These are confusing times, as the clock ticks on the Bucs' coaching search.