America's Quarterback, Jameis Winston, Named To The 2016 Pro Bowl
January 25th, 2016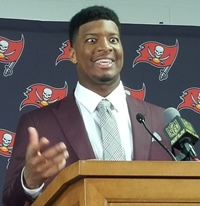 Get your hula skirt, young Jameis.
It's off to Hawaii you go!
America's Quarterback, Jameis Winston, was named to the 2016 Pro Bowl roster today, per BSPN, the network broadcasting Sunday's Pro Bowl.
Tom Brady pulled out of the game with an injury after failing in the AFC Championship game, and Jameis got the call to replace him.
What a great honor and learning experience for Jameis. Yes, Joe realizes the Pro Bowl is little more than an exhibition and three days of easy practices and parties for players, but it's a great chance for Jameis to mingle with NFL elite and pick their brains.
Jameis is an eager sponge in those types of situations, and this can only be a good thing.
Well done, Jameis.