All Eyes On Lovie's Offensive Staff
January 15th, 2016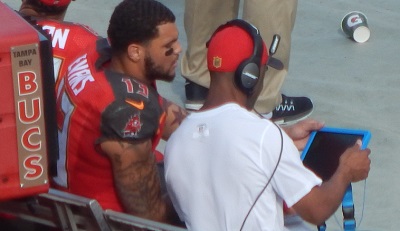 Remember, brand new Bucs head coach Dirk Koetter didn't get to make one staff hire when he took over for ill-suited playcaller Marcus Arroyo a year ago.
Koetter was surrounded by Lovie Smith men, including quarterbacks coach Mike Bajakian. Lovie didn't even let Koetter pick his QB coach. Kudos to Lovie, Bajakian and Koetter were brilliant for America's Quarterback, Jameis Winston.
Joe's not saying Koetter will blow out his staff, but you can bet the house change is coming.
Joe will look first to wide receivers coach Andrew Hayes-Stoker, who always seemed like a curious hire. He's 36 years old and was a college fullback/running back as a player. He worked as an assistant wide receivers coach with the Bears under Lovie before leaving for a running backs coach job at Florida International University, and then he landed on the Bucs' staff.
Joe believes Mike Evans could use a fresh perspective, preferably from a guy who played the position.
Without knowing Koetter's relationship with other staff members, Joe's not going to speculate down the list. The point is change is imminent.