A Third Dance For Lovie?
January 12th, 2016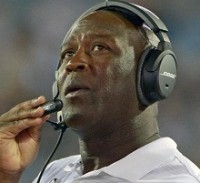 Will Lovie Smith join the ranks of John Fox, Bill Parcells, Dick Vermeil and Norv Turner?
Those former head coaches all got a shot to coach three teams. Joe's assuming more got a third crack, but very few.
Joe doubts whether Lovie will enter that realm.
It's a little odd that Lovie doesn't seem to be getting a sniff for any current vacancies, but perhaps Lovie isn't interested? Or perhaps Lovie wants to wait until he can think of fresh spin for why opposing quarterbacks had the best completion rate in the league against his defense for two consecutive years? Or maybe Lovie hasn't crafted a reason that can explain away the Bucs having their worst third-down defenses over the past 20 Bucs seasons?
Joe believes those hurdles might be too much for Lovie to overcome.
However, Joe could certainly envision a team about to draft a rookie quarterback turning to Lovie after the A+ job he did handling America's Quarterback, Jameis Winston, from draft day to Week 17. Loads of NFL coaches would have screwed that up.