24,000 And Climbing
January 26th, 2016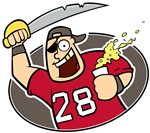 It's time for high fives at JoeBucsFan.com world headquarters and a thank you to the masses.
Joe's been typing away here for 7 1/2 years and living the Bucs life. Yesterday, Joe eclipsed the 24,000 post mark. Hey, that's an average of 10 blog posts publishing per day here on JoeBucsFan.com.
No outlet in town has brought you more on the Bucs since August 2008. It's really not close.
Fueled by a 24/7 passion for Bucs football, Joe will continue marching ahead to 25,000 (unless Team Glazer pays Joe a handsome sum to do something else, or to do nothing.)
If you're new to the website, you'll see that Joe attacks the offseason like a mythical free shrimp and fries buffet at Hooters. There is no offseason here.
Speaking of Hooters, Joe would like to thank all the great advertisers here. Many of them have been around for several years. In no particular order, Joe applauds Dolman Law Group, Original Hooters, the Tampa Bay family of Ed Morse dealerships, Craters & Freighters of Tampa, Hooters Calendar, C4MH.com and Metcalf Harden, among others.
Have a great day.