Your Sunday NFL Draft Cheering Guide
December 20th, 2015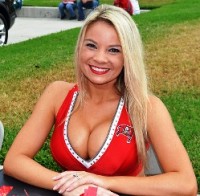 The Bucs are 6-8 and out of the playoffs. So that means great hope in the worlds of Bucs fans lies in 2016, specifically the NFL Draft.
So what should Bucs fans want to happen today in the NFL?
With three games remaining for most of the league, there are loads of ifs and buts on the schedule. But Joe considers the following to be potential results that would help Tampa Bay.
It's your cheering guide for today.
1) Oakland (6-7) must beat Green Bay (8-5). The Raiders are still alive in the AFC, and they've had a solid year under their first-year head coach, Jack Del Rio. Oakland's got miserable San Diego next week. So a win today would put them in great position to finish with a better record than the Bucs.
2) Go Giants (6-7)! Take out undefeated Carolina. First, it's easy to root against the Panthers. Second, the Bucs want a better draft pick than New York, which like the Bucs, is hurting for pass rushers.
3) Jacksonville (5-8) to beat Atlanta (6-7). This one is tricky, but with a win today, the Jaguars will have a good shot to pass the Bucs. They finish the season with Houston and New Orleans. Joe would love to see Atlanta completely implode, which Joe thinks is likely. They finish with Carolina and New Orleans at home.
4) New Orleans (5-8) over Detroit (4-9). With a win, New Orleans, too, has a chance to overtake the Bucs and help Tampa Bay get a better draft pick. That Jaguars-Saints game next weekend will have huge draft implications.