Yesterday, Today And Tomorrow
December 28th, 2015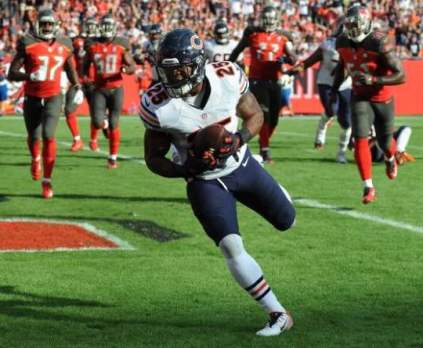 OK, so after two years this much is clear: For whatever reason, Lovie Smith and/or his staff cannot coach up cornerbacks. The evidence is too clear.
From Alterraun Verner to Johnthan Banks to Loaf Jennings to Toast Jenkins to Hey Jude to Leonard Johnson (who started for Bill Belicheat), none have excelled with Lovie and some have regressed/been ruined under him. Only Sterling Moore has been adequate, and he's barely a serviceable NFL starter.
So armed with that knowledge, how in the world can the Bucs actually draft cornerbacks for a coach/staff that has yet to demonstrate the ability to develop corners? Or draft corners who may not even fit a scheme that could be employed by a new coach in 2017, if Lovie doesn't' get things turned around next year?
The Bucs are in a pinch. Joe doesn't believe Leslie Frazier will return. No inside info here, just that Frazier's contract runs out in a matter of weeks and long ago he was relegated to figurehead duty when Lovie took over the defense. Why bring a figurehead back?
The rest of the defensive assistants? Joe envisions Lovie retaining them, including Gil Byrd, the cornerbacks coach. Good luck finding quality replacements who want to work under what could become a lame duck staff. That's why Joe has a hunch someone from the current staff will be promoted to fill Frazier's void.
Penalties
Nothing was more maddening than yesterday's Alterraun Verner's face mask call that nullified an interception inside the Bears-10. It's glaringly obvious how undisciplined this Bucs team is, Lovie's team.
The Bucs are far too close to setting the NFL record for penalties in a season. And last year they had the seventh-most penalties in the NFL.
Both those seasons came under Lovie. That's a coaching thing. One year, OK, a fluke. But two years of so many penalties coming under the same coaching staff? That's a pattern.
Apparently, the Bucs' coaching staff seems to be coaching players up to go one consonant beyond the letter of the law, or outright ignore the rules. Joe doesn't buy the latter, but if the former is untrue, how do you dismiss the latter?
Of course, the Bucs were a highly penalized team in Greg Schiano's last year in 2013. So could it be the Bucs have players that just can't concentrate? Or is it Bucs players have no fear of their coaches, no fear of consequences?
Wide Receivers
Joe will argue the Bucs need an upgrade at wide receiver more than they need cornerbacks (who won't be developed and/or ruined). Look at what has happened to the offense after Vincent Jackson was hurt. With no reliable or dangerous No. 3 receiver, the offense quickly became run-focused and Jameis sure seems to press when Jackson is unavailable.
Since there is no reason to believe any new corners will work for Lovie, the Bucs better be prepared to outscore opponents. They have the running backs, they have one healthy receiver, they have the quarterback, they just need more receivers. Reliable receivers.
Defensive Line
Instead of drafting cornerbacks that will likely rot on the vine, Joe suggests the Bucs load up on many defensive linemen in both free agency and the draft, specifically defensive ends. Then, hope by the grace of God they get lucky with one. Any kind of pass rush will help out the secondary.
Of course, once the season is over, Joe is going to be paying very, very close attention to the Mario Williams situation in Buffalo.
Unlike Ghost Johnson, as least Williams, who looks like he very well may get released, has a superior resumé. Joe would rather the Bucs throw mega-Team-Glazer loot at a guy who has a significant resumé than at a head case, and then be left wishing and hoping the guy is the second coming of Simeon Rice (Joe can still hear Warren Sapp's howl when someone last year at One Buc Palace tried to compare Ghost and Rice in a chat with the Hall of Fame defensive tackle).
Heads Up
Keep clicking on JoeBucsFan.com, as Joe has two stunning posts cooking for this morning and tomorrow morning. It's a look in the very near future about a personnel switch that will aid all parties involved, and what some higher ups in the Bucs front office expect from the team next year.
Two must-read stories that will not be buried and hidden behind a paywall (just how and why exactly is a "must-read story" shrouded behind a paywall?).
NFL Thoughts:
Raiders: It is sort of sad to see the Raiders (likely) moving just when the team is getting good. Talk about adding salt to the wound of Oakland locals. Nice win over the Chargers on Christmas Eve.
Redskins: This is a feel-good story of the NFL. Brother of Chucky seemed minutes away from being fired (thanks, Lovie). The franchise quarterback was benched. The whole organization seemed like a s(p)it show. Now, they are division champs. Cool story of the year.
Dixie Chicks: Hey, look who woke up from the dead? A 70-yard Matty Ice to Julio Jones hookup did the trick and gave Carolina its first loss.
Crows: This is what happens in rivalries, and the Crows may have just punked the Steelers out of the playoffs. Ryan Mallett strikes again – Ryan Mallett!
Bills: Mike Gillislee (!) tore up the Cowboys. Just goes to show you how many decent running backs there are in the middle rounds.
Lions: Is Matt Stafford and the Lions making enough progress for Jim Caldwell to keep his job? Stranger things have happened.
Chiefs: Kansas City is a runaway train. Franchise-tying ninth straight win. Andy Reid just may get serious consideration for coach of the year. He revamped the offense after Jamaal Charles was lost for the season. Look at the results. Who says adjusting on the fly doesn't work?
Colts: The slim playoff chances of the Colts ride now with third-string quarterback Charlie Whitehurst, who actually got the job done against the listless Dolphins. Imagine if you were a Colts fan in August and were told, after an AFC title game appearance, your hopes and dreams for 2015 ride with Charlie Whitehurst?
Jets: Big, big, big win over the Belicheats and with the loss by the Steelers, the Jets are in the driver's seat for a playoff berth. How come Todd Bowles was able to pull this off in one year? To hear the Tampa locals, coaches need years to turn around a team, no less than three.
Texans: Sorry, but clobbering the Titans is nothing to brag about. Like stealing candy from a little girl on Halloween. It is almost embarrassing.
Saints: All of a sudden the Saints have come alive. They have a chance to add to more misery to Bucs fans before the season is out, hate to write it.
Cardinals: Even with Honey Badger out for the year, the Cardinals still clobbered the Packers. Why is it that Aaron Rodgers looks so ordinary in domes?
Rams: They beat the Seahawks. Unreal. On the road. Case Keenum actually had a touchdown pass. Imagine.
Vikings: Just crushed the Giants in the deep freezer that is Minnesota this time of year. Who wants to play a playoff game there in January?
Random Thoughts
* Zach Mettenberger lost his ninth straight game for the Titans. Can we please turn the page on the narrative that Mettenberger is an up-and-coming quarterback? He's the reason why the Titans had the second pick in the draft last year. He's not even as good as Mike Glennon. He's a poor man's Ryan Tannehill sans the hot blonde wife. Joe's sick of hearing his name touted as a rising stud.
* Speaking of Tannehill, good luck finding a decent coach to take over the Dolphins. The new coach will be stuck with Tannehill who is nothing more than a tease. He's just good enough to get you excited, and just when you think he's going to do something special, Tannehill takes his drink and hides like the babe at the bar using you for free cocktails. Tannehill's next big win for the Dolphins will be his first. Nice guy, strong eye candy of a wife, just not an NFL winner.
* The Steelers really shat the bed losing to their bitter rivals who really stink this year. Now the Steelers need all sorts of help to get into the playoffs. Bad, bad, bad loss.
* One of Joe's favorite players to cover with the Bucs was Mason Foster. He was such a good dude. Always in a good mood unless it was a loss, and even then, he wasn't surly and always gave Joe thoughtful responses under difficult circumstances. Joe gets why Foster, the biggest Ric Flair fan you will ever meet, was let go. Didn't fit Lovie's scheme. But Saturday night, Foster started for the Redskins at middle linebacker and had a nice game. Now he's going to the playoffs. Joe's happy for the guy.
* Hey, Schiano Man P.J. Fleck's Western Michigan squad won the Bahamas Bowl over Middle Tennessee. Fleck, the former Bucs receivers coach, guided Western Michigan to its first bowl win in program history. Just a hunch, but you likely didn't hear or read anyone from either program whining about playing in such a meaningless bowl.
* Everett Golson is not traveling to Atlanta for the Peach Bowl with Florida State due to "personal reasons," ending his college career? One of those reasons wouldn't be that he can't read defenses, would it?
* Joe's good friend, local sports radio personality Bobby Fenton, hit the nail on the head. With all the bowl games and NFL games out there, how is it Christmas Day was without football? (Stop with the Blue-Gray Game. That's an insult when there are many bowls and NFL regular season games that easily could have been scheduled on Christmas. Football all-star games are for the desperate once the season comes to an end.) Fenton put it best when he Twittered it was "criminally negligent" that there wasn't a football game broadcast Friday.
* The best thing about yesterday's Bucs game? Someone had an epiphany and instead of the constant drumbeat of Metallica's "Enter Sandman" and Ozzy Osbourne's "Crazy Train" on each kickoff, a constant since the Den of Depression opened, Joe heard three Van Halen songs instead, including "Mean Street." Whoever was in charge of this long overdue overhaul, thank you from the bottom of Joe's heart. Joe heard the change, and as Maxwell Smart would say, Joe "was loving it!"
* If you are inclined to believe Al Jazeera, then Peyton Manning is the A-Roid of the NFL? Joe has to apologize, but he'd believe TMZ over Al Jazeera, The doctor Al Jazeera allegedly has on tape spilling the beans seems awfully shady. If what you said was a lie told on purpose, why ruin so many of your clients' lives? That's really dumb for business and a good way to go bankrupt, not just from your clients bailing but also from the legal bills that will soon head your way.
* Late last night, Joe received word from the Bucs that the final game against Carolina has been flexed to a 4:25 p.m. kickoff, moved from the previously scheduled 1 p.m. kickoff. There are four other games for that same televised window including Seattle at Arizona. Plan your alcohol consumption accordingly.