Trying To Dump The Deuce
December 31st, 2015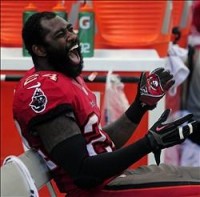 Here's a trivia question for you:
In 2015, how many more interceptions does Darrelle Revis have than all Bucs cornerbacks combined?
The answer is three!
Revis has five. For the Bucs, Sterling Moore has one, and Alterraun Verner has one. That's it. (Keep in mind, Revis isn't thrown at terribly often.)
Yes, Joe realizes this revelation might start New Year's Eve drinking early — from the suburban bars of Wesley Chapel to the dives of Indian Rocks Beach.
Joe doesn't have the stomach to research the last time Bucs cornerbacks only had two interceptions combined in a season. Has it ever happened? Last year, Johnthan Banks had four himself.
Joe sure hopes redemption comes for the cornerbacks on Sunday against Cam Newton. Every single Bucs cornerback could be gone next season, but Joe still would like to see that ugly deuce wiped out.