System Issues
December 28th, 2015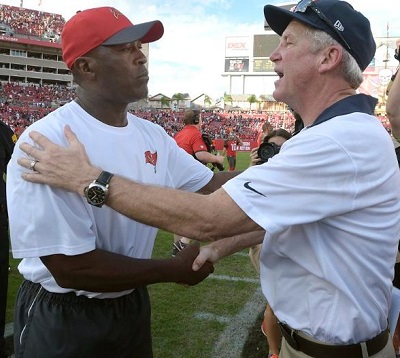 Joe's not going to act like a fool and start blubbering about how the Cover-2/Tampa-2 philosophy is dead. It's not. (See Panthers)
However, the Lovie Smith/Rod Marinelli brand is having serious issues. The data is overwhelming.
It's worth noting that during Marinelli's three-year tenure as Detroit Lions head coach, his defenses ranked last every year in completion percentage by opposing quarterbacks. Joe finds this to be a legitimate stat, as it paints a real picture. Yes, in 2006, 2007 and 2008, respectively, those Lions defenses allowed 66.3 percent, 70.1 percent and 68.4 percent of passes to be completed.
And then Lovie hired his good friend Marinelli to guide the Bears defense.
In 2014, the Buccaneers were the most giving team in the NFL to quarterbacks. Opposing gunslingers completed 68.7 percent of passes. This year, Tampa Bay is right back in the NFL cellar, allowing a whopping 69.5 percent. And many of those completions were by lame QBs.
None of this is a coincidence. If you think it is, then just stop reading now and go get ready for Monday Night Raw.
Joe is convinced Lovie's defensive issues primarily arise from stubbornness, an unwillingness to make significant adjustments. And then there's also that nasty talent evaluation issue when it comes to cornerbacks. Remember Tim "Loaf" Jennings? He was hired to start at cornerback this year because he was a great fit for Lovie's system, you know, the one that isn't working.
Remember all those Lovie/Marinelli defensive players signed last spring and summer? Henry Melton, Bruce Carter, Sterling Moore, Chris Conte and Jennings. They were supposed to come here and join Major Wright and Mike Jenkins in pushing the Bucs' pass defense over the hump.
Darrelle Revis? Nah, no need for a Hall of Fame cornerback in his prime. Charles Tillman of the Panthers? Why pursue him when you can Jennings?
Bback to the Bucs giving quarterbacks a free ride for the second consecutive season, Joe understands that Lovie's defense is designed to give up plenty of underneath throws and bend but not break. (In 2004 and 2005, Father Dungy's powerful Colts teams were last in the NFL in completion percentage allowed, too.)  However, that's just not working well enough and the effective adjustments aren't coming from Lovie.
Joe can smell the fix attempt already: Try for the third consecutive season to land a defensive end in free agency. Sign a couple of cornerbacks in free agency, including re-signing Sterling Moore. And look for an impact rookie at either one of those positions.
That's all very nice, but Joe thinks the real fix lies in Lovie altering his approach in the absence of defense talent he had with the Bears. That's the essence of coaching — getting the most out of what you have.