Report: Kwon Alexander's Regular Season Is Over
December 7th, 2015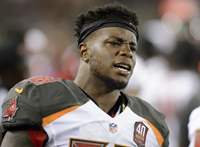 It seems like the inevitable will start now.
UPDATE: 3:16 p.m.
Tampa Tribune beat writer Roy Cummings is Twittering that starting middle linebacker Kwon Alexander's looming four-game suspension for violating the NFL performance enhancing drug policy is looming no longer, and he will miss the final four games of the 2015 regular season.
What's next for the Bucs is scary, considering Bruce Carter has concussion issues and has never played middle linebacker for any significant stretch in his career. And outside linebacker Danny Lansanah is not well suited for the position, per the comments of defensive coordinator Leslie Frazier last year.
The situation should become a lot clearer when the Bucs return to practice Wednesday.
Alexander registered impressive numbers. Former Bucs middle linebacker Mason Foster led all NFL rookies in tackles in 2011. Through just 12 games this season, Alexander has more than Foster did.
Alexander truly was turning out Pro Bowl-caliber production. Pretty damn good for a 21-year-old, fourth-round pick.
UPDATE: Per good guy and well plugged-in Peter Schrager of FOX Sports, Alexander dropped his appeal, which triggered the immediate four-game suspension.