Pass Rush Credit Lacking, Says Gerald McCoy
December 3rd, 2015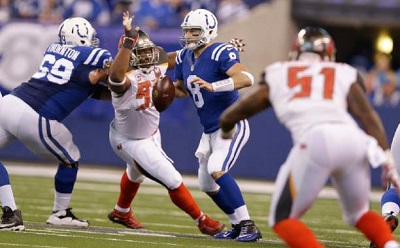 Traditional pressure off the edge is rarely seen from the Bucs' defense.
Perhaps that's why the Tampa Bay pass rush appears so anemic.
But it's not as bad as it might look, Gerald McCoy instructed fans on the Buccaneers Radio Network last night.
McCoy rolled out some numbers that clearly illustrated the pass rush was pretty good against Matt Hasselbeck on Sunday.
"We got to him three times. We hit him 11 times," McCoy said. "We had more pressure than we've been getting credit for. He just made the necessary plays when they needed them. It's not like we didn't have him rattled."
McCoy also explained that Hasselbeck might be second only to Peyton Manning when it comes to getting the ball out of his hands quickly.
Upon Joe's further game-film review, Joe is leaning in McCoy's direction on the pass rush in Indianapolis. It was better than it appeared, though it's still not good enough. The Bucs just don't seem to have the talent — or the talent developed — to generate a consistent rush this season.