Nines All Around
December 8th, 2015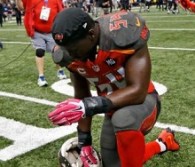 Buccaneers fans aren't used to all these single digits.
Through 12 games this season, the NFL official rankings place both Tampa Bay's offense and defense at No. 9 in the league.
Sure, stats are a bit of a spin job. Both of these chart yards per game, which hardly tell the whole story. But regardless, official offensive and defensive rankings have been around a long time. The Buccaneers' Super Bowl offense was ranked 24th in the league, despite a No. 1-ranked defense that gave it loads of opportunities. Doug Williams' 1979 Bucs that made the NFC Championship game had the NFL's 14th-ranked offense.
If somehow the Bucs finish this season with a top-10 offense and defense, Joe is going to say (without looking it up) that will set a franchise record.