Mike Evans Adjusting To Adjusting
December 16th, 2015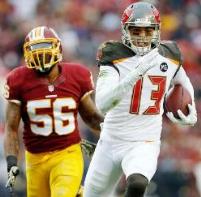 Last year, Mike Evans was tremendous as a rookie, one of the better receivers in the NFL.
Bucs AC/DC-loving general manager Jason Licht was lauded for the coup. No one grumbled about Odell Beckham. No one.
A year later, Evans, for the most part, is a shell of himself. He has made a name much more for dropped passes and bellyaching to officials than  for making spectacular touchdown catches, and that's a shame.
Fans are already griping that Licht picked the wrong receiver.
Yesterday, Bucs offensive coordinator Dirk Koetter seemed to sympathize with what Evans is going through, a struggle in his second NFL year.
"One thing I would just say is Mike came on to the scene last year as a rookie, Vincent Jackson playing on the other side," Koetter explained, "I think people game-plan for Mike a lot more than maybe they did last year. Mike is drawing more double-teams than perhaps he did last year. Mike still has high 800s in yards. He's still probably going to go over 1,000 yards, unless something bad happens.

"I would just say, more than anything, defenses are probably more aware of him and growing pains with a rookie quarterback, and we're running the ball more. We're running the ball more, last year they threw it a little more. We're running the ball more and probably more successfully than they did last year."
This is life in the NFL. If, as a rookie, you show success, defensive coordinators of other teams — they get paid, too — have all offseason to devise schemes to take you our of your game.
Welcome to NFL reality, Mike.
But as has been well-documented, Evans does himself no favors by his (many) drops, his constant barking at zebras and what often appears to be more interest in drawing a flag than selling out for a catch.
If Evans starts paying more attention to his main task — catching — rather than the other nonsense, he will do himself a lot of good.