Lovie Talks Extreme Pressure
December 1st, 2015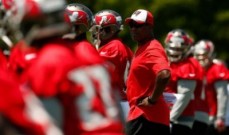 After listening to Lovie Smith talk on WDAE-AM 620 last night, it seems like the head coach reslishes the situation the Bucs are in right now — and he must have been sickened to his core by what happened after Thanksgiving last year.
Speaking on the Buccaneers Radio Network, Lovie explained that when teams and players are in an no-lose, extreme-pressure time in the season, that usually reveals the mettle of the competitor.
"Once you get really backed up against a wall, most times you see the best of people," Lovie said. "And that's what we're hoping."
Think about Lovie's words there, and then think about how he must have felt about his team when it lost six straight to close last season, and couldn't muster 300 yards of offense in any game during that stretch.
In a division that had a sub-.500 winner, the Bucs showed no heart.
Joe can't imagine that happening this season. If it does, well, then that would be as unacceptable as Mike Evans' drops.