Key Vincent Jackson Contract Details
December 17th, 2015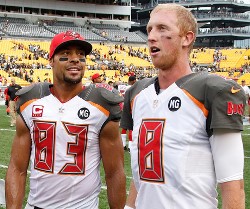 During Joe's appearance with the dean of Tampa Bay sports radio, Steve Duemig, last night, Joe teased details on Vincent Jackson's contract. But time ran out and Joe couldn't get to them.
So here they are.
Joe has learned that Jackson has no significant triggers or clauses or guarantees in his contract. So that means the Bucs only owe Jackson his nearly $10 million for next year if he makes the 53-man roster in September.
Bucs fans should open their minds to the significant issues facing the Tampa Bay receiving game"
1) Top receiver Mike Evans has massive catching issues and on-field maturity challenges.
2) Jackson turns 33 in January and is coming off a two-knee-injury season.
3) Louis Murphy had ACL surgery in November.
4) Russell Shepard, Donteea Dye and Adam Humphries are great stories for three undrafted players, but they are who they are — borderline NFL receivers.
Joe believes the Bucs must address the wide receiver position in free agency, and possibly again in the draft. Joe will scream all summer long if Tampa Bay dares to shortchange America's Quarterback, Jameis Winston. That should not be allowed to happen.
As for V-Jax, his contract status means the Bucs are under no pressure. They could create competition at the position and see how it all plays out in the summer.